Can you guess the most anticipated gift of a girl's dreams? You got it right. The ROCK! I recall a friend of my talking about her upcoming engagement and I asked her if she had a tentative date set in mind. Her response, "I don't care when we get married, I just want that RING!" Over the past few decades an incredible amount of pressure has been put on the men to be creative, spend a lot of money, get what she likes, use a family heirloom, compete with her bestie's ring, and many more outrageous expectations that sometimes are impossible to reach. I mean good gravy girls, are we losing sight of the meaning of the ring? Trust us, we know it's a down right must that you like it, but what should you look for when shopping for rings? OR for that matter, should YOU even be shopping for it? We looked to one of the most promoted and sought out wedding websites to see what they had to say about the issue…
According to The Knot, from vintage-inspired details to edgy colored stones, choose from these trendy but destined-to-be-classic styles.
Style 1: Pavé Diamonds
In the elegant pavé setting, tiny, faceted, fully cut stones are set as close together as possible so you can't see the metal around them. Think of it as if the metal band has been paved with diamonds. The pavé look offers bling without being outlandish. We're seeing pavé in metals from yellow gold to platinum to even rose gold!
Style 2: The Vintage Look
What's old is decidedly new this season. The subtle and delicate look of vintage-inspired rings is in. Stones on these rings are recognizable for their Old European round center cut, but you'll also see gorgeous Asscher cuts and others too. The defining details: minimal scroll-like engraving, microset (tiny, half-point) diamonds, delicate milgrain work (raised beaded edges), and filigree.
Style 3: Colored Stones
Canary yellow diamonds, blue and pink sapphires, even rare light pink diamonds are appearing on fourth fingers everywhere. Color can go modern (opt for a tension setting), classic (with a four-prong setting), or vintage (a filigreed setting). Whether you choose your favorite color or your birthstone, a colored stone is a great way to make a stylish statement.
Style 4: Stacked Rings
Two, three, or more bands "stacked" together make a terrific statement. Eternity bands (stones all the way around) look great piled together. Whether your stones are channel set (flush with the metal) or pavé, or even if you just opt for metal bands — the look is modern and flexible: Wear it with your engagement ring or without. The best part is that you can start with one and he'll have anniversary gift possibilities for the next few years.
What do we think about what the knot says? We think they are pretty on target! The most important advice we can give to you about picking the right ring is to let the ring be a reflection of YOU and who you are. One last thing, and don't hate me ladies…but this is his decision if it's coming from his pocket. Many girls don't realize that buying a ring and keeping it a secret is a huge deal for these dudes! Ultimately we believe it should be his choice, but of course with a little input from his bride to be J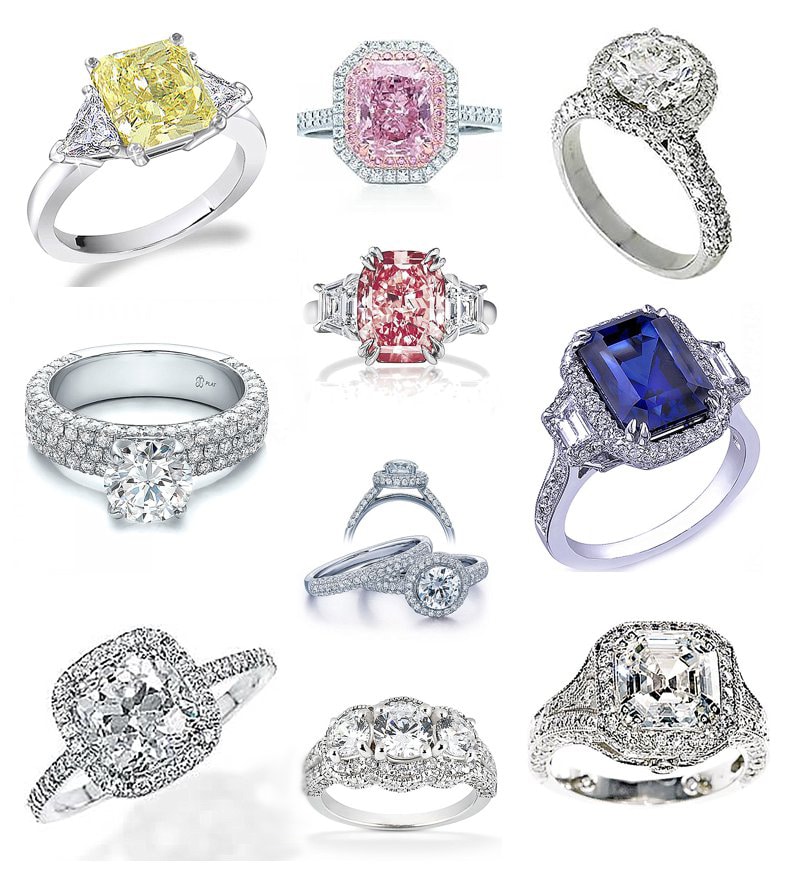 Photographer: Aggie Ring: JP Beato III Photography