CORINNE + ZACK'S PROPOSAL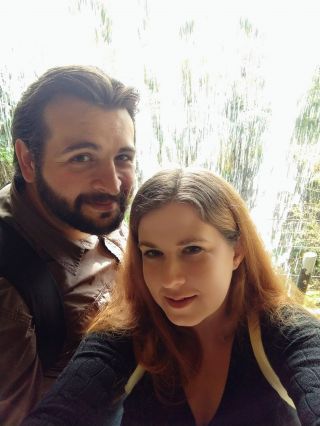 Corinne + Zack's Proposal
"As with all great love stories, ours is a slow story of meeting in the middle. I'm a southern belle from verdant Charleston, South Carolina, a city built on (and a little over) the Atlantic shore. Zack is a goofball from Sonoma, California, a small town in wine country just an hour's drive from Pacific beaches. It took 26 years for both of us to end up in the great state of Texas, each with a beautiful little girl in tow.
We met at a company picnic in the fall of 2015, where our two little girls decided they were sisters. Two years of company events and play-dates later, we realized they weren't the only ones perfect for each other. Our love grew day by day, choice by choice, until Zack decided to surprise me with a ring under the tree this last Christmas. The ring was there for a month and I had no idea! We have already started our lives together, but we are so excited to officially become one family in January. #finallywright2020″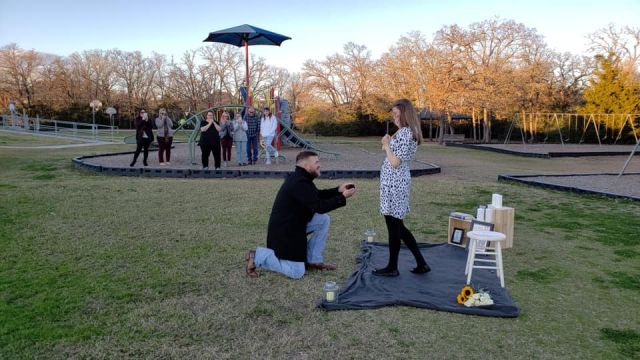 >Katy + David's Proposal
"I met David in second grade at Sam Houston Elementary. I was immediately smitten with him. I remember running home from school, at the young age of 7, telling my mom that "I am going to marry David Derkowski one day." I was young and naive, but I knew something wonderful was going to happen with that boy. The next year, David withdrew from public school and became homeschooled. We lost touch, but I always remembered him fondly. Nearly a decade later we added each other on Facebook and Twitter and were able to see what each other had been up to since our elementary school days. In 2010, I graduated from Bryan High and moved to Austin where I pursued a journalism degree at UT. At that time David remained in Bryan working at the United State Post Office. While I was away in Austin, we kept in touch over Twitter when one day we just clicked and realized something great was happening. One day I suggested to David that he should read a book series called Divergent. I am an avid reader and am always recommending books to others. I was pleasantly surprised when he agreed to read the book. (Little did I know he read that book only because he was interested in seeing where our friendship would lead.) Within a few days he had finished the book and I had graduated and moved back to Bryan. Five days after moving back David messaged me on Twitter asking if I would be interested in going to see the movie adaptation of Divergent at Cinemark. I was so incredibly nervous when he first asked me. I eagerly said yes. We had our first date on May 21st, 2014. The start of something great. Since that day we have had more adventures and special moments together. I never knew how great love could be until I met David.
On Saturday, January 12th, 2019, David surprised me by placing a "clue" card in my mailbox. We were planning to go out to a nice dinner, but that was just a clever ruse David created. The clue card led me on a scavenger hunt to all of the special places around town that had significant meaning to David and I. Our favorite restaurant, our first date, our favorite store and the final clue led me back to Sam Houston Elementary, where we first met. As I walked down the candle lit path I noticed our families lined the playground. David stood holding a bouquet of roses and sunflowers, my favorite. There were 2 sunflowers to represent him and I and 8 white roses to represent our family members. When I walked to him we hugged for a few minutes just taking in everything. It felt like a dream.When he got down on one knee I was in utter disbelief. I eagerly said "Oh my God, yes!" It was the most perfect day surrounded by our family and close friends. It was a day full of sentiment and love. We are officially engaged and as we like to joke, David and I were "meant to be since elementary."
WOw! What great stories! We hope you loved reading these as much as we did. We also hope that the Spring Bridal Show will provide so much assistance in your wedding planning journey.
Find out more information about and purchase tickets to the 2019 Spring Bridal Show.