Now that you've gotten engaged and have had the time to flaunt that gorgeous rock of yours, you might find yourself asking "Now what?!" We have the perfect solution to your question! ATTEND THE FALL 2014 BRIDAL SHOW AND BENEFIT! No matter if your wedding is in 3 months or 3 years, there is always something new to discover at one of these bridal extravaganzas! Want to know what is in store for you, your bridal party, friends, or family at the show?? Well come on! Read on!
Why should you attend a Bridal Show?
Top local vendors are all gathered under one roof. Let's be honest, when it comes to planning your wedding, the "To-Do" list goes on for days! At our Fall Bridal Show and Benefit you have the opportunity to walk down rows of never ending booths to see a variety of vendors from all over the Brazos Valley! Vendor booths display the very best of their work and the representative of the company is standing right there to answer any questions you may have! Photographers have their albums out, caterers have tastings, and even beautiful bridal gowns are displayed! You don't want to miss out on this opportunity to meet some of the very best vendors in the Brazos Valley!

You will leave a bridal show feeling inspired and full of ideas for your own wedding. Get your cameras and notepad ready because ideas are going to be flying at you left and right! Checking out wedding albums, seeing cake designs, and looking at floral arrangements is just a tiny bit of the type of things you will encounter at our show. The Fall Bridal Show and Benefit will leave you chomping at the bit to get home and start sketching out ideas or calling your favorite vendors to get the ball rolling on your wedding planning!

There is no need to worry about forgetting any important details! Have you thought about who will clean up after your wedding? How about which cake serving set you will use? I bet you might have forgotten about transportation as well! No need to freak out about the small details. All of the vendors at the show are incredibly knowledgeable about the wedding planning process and you will encounter vendors you would have not otherwise thought to contact!!

You may be able to find a great deal! It's not unusual for a vendor to offer 15% off of their services if you book them at the show. You heard me right, 15%!!!! You have the opportunity to shop around at the show and decide who the best fit is for you, or who is the best fit for your wallet! If all else fails and you leave the show with a discount, then the trip was totally worth it! Did I mention all of the free giveaways? You will have to attend to be entered in all of the drawings to win gift certificates to vendors around town, and much more!

It's fun! As soon as you enter into the show with your family and friends, you will be identified as the bride! You will get a big blinking ring, and EVERYONE will know you are the bride-to-be! What better way to practice being the center of attention! Not only will you be strolling through a wonderland of gorgeous wedding décor and fashion, you will also get to sample food, drinks and cake, and enter to win an amazing $1,000 grand prize shopping spree. Yes, I said cake and cash! And lots of it!
Now that you are all pumped up and ready to attend, be sure to arrive prepared for a great day that is both fun and productive. Wear comfortable clothes and shoes; bring your appetite; bring a pen and paper to take notes, your phone to snap photos of your favorite displays, your calendar and a friend or your fiancé to help you make decisions.
I know you wouldn't be a fan of writing your name, email, phone number and wedding date down about 124,325 times, so you may even want to bring printed labels with your name and information on them for entering raffles and signing up for e-mail lists. Purchase your tickets online in advance and get a $5 discount! So get going and get your tickets purchased! Bridal Show day is bound to be one of the best experiences in planning your dream wedding, we guarantee it!
Our upcoming 2014 Fall Bridal Show and Benefit will be on Sunday, September 21st from Noon until 4 pm at the Brazos County Expo. All proceeds from our ticket sales will go to our designated charity, Pink Alliance. You can find more information about the show and purchase tickets here. Come on! You don't want to miss out!!!!!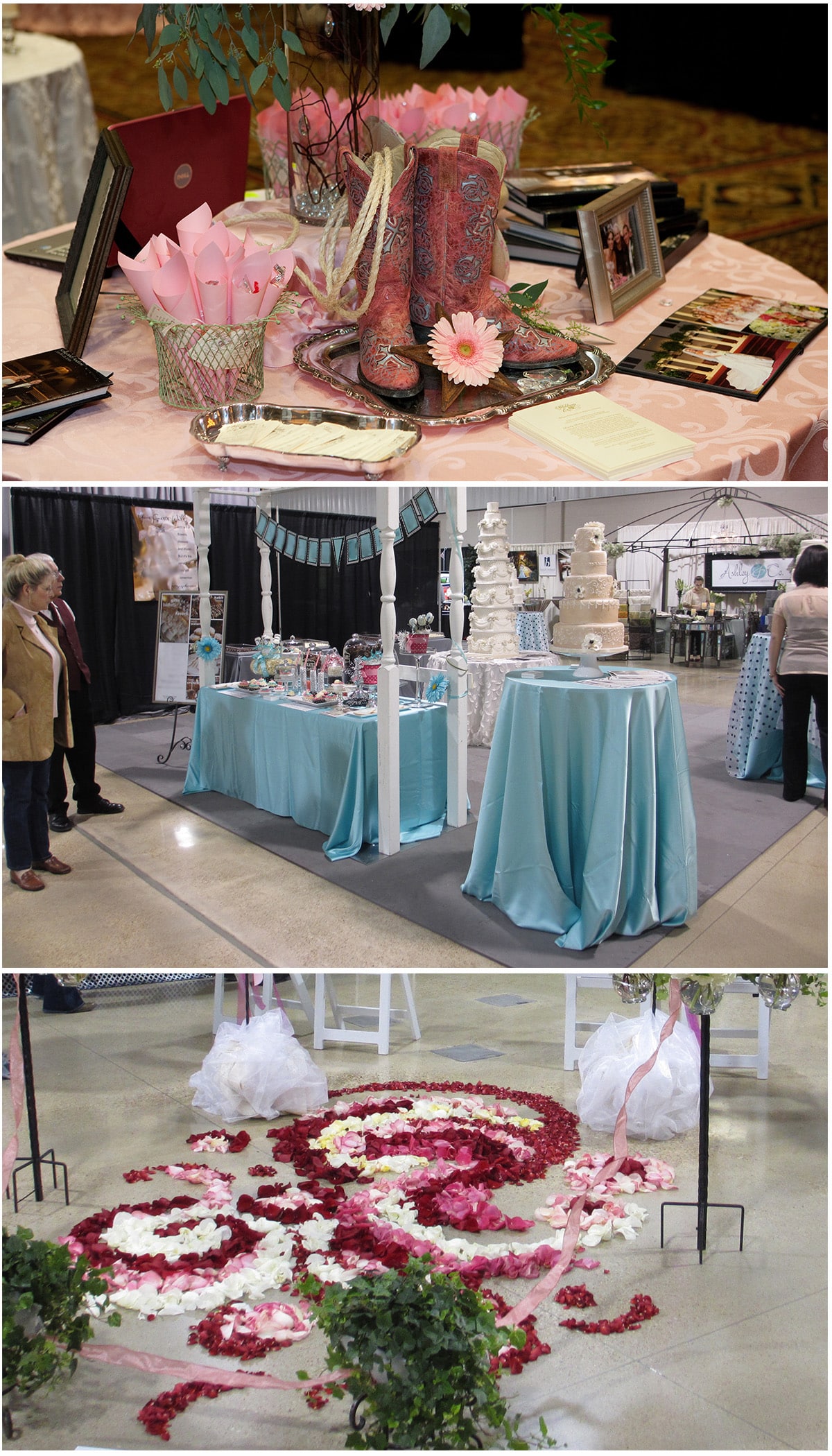 Photos by: Kathlyn Dragna Photography & Michael Kellett Professional Photography