Ashley and Erik Ver Shuur
This winter wedding took place at Deep in the Heart Farms in Navasota, Texas on November 28, 2020. Captured by San Angel Photo, Ashley's winter wedding details were so coordinated and came together beautifully on the day of the event! We are so excited to share why Ashley chose a winter wedding theme with an outdoor twist, and how each of the Wedding Association of the Brazos Valley wedding vendors brought her vision to life!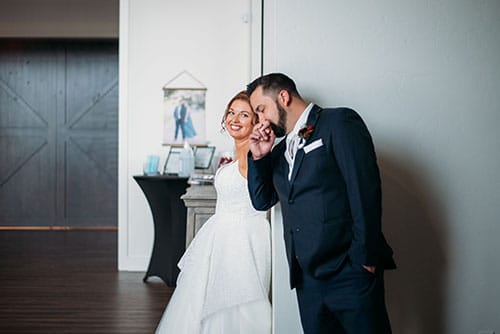 Wedding Association of the Brazos Valley Vendors:
Photography: @sanangelphoto
Bridal Dress: @coreenasbridal // Hayley Paige
Coordination: @Perfectlyplannedtx
Floral: @unforgettablefloral
Cocktail Apps: @NapaFlats
DJ/Photobooth: @DjFrancoevents
Rentals: @DetailsPartyRental
How They Met
This real wedding story begins when Ashley and Erik met in the summer of 2017 on Lake Somerville through mutual friends. Their friends actually planned on setting them up, but Ashley and Erik were oblivious to that! An instant bond was formed, but there wasn't an official title put on their relationship until 9 months later. They remained friends, until Ashley says she "slid into his DMs" after a chance meeting at a gas station with the same group from the Somerville trip, and that is now "their" gas station!
The Proposal
Erik told Ashley he was taking her out to dinner at a surprise new restaurant in College Station. He bought her a new dress and told her she had to be ready at 5:00 on Friday, September 13th. As they were lea
ving the house, Erik told her that they had to meet his boss in town really quick to drop something off. They drove to Blues Alley in downtown Navasota where Erik's boss was supposedly waiting. When they got there, Erik's boss was nowhere to be found. After pretending to search for his boss for a few seconds, Erik pulled out the ring box and dropped to his knee. About that time, Ashley could hear Mary Peña (with Mary Pena Photography) clicking her camera. Erik asked her to marry him and she says "he had a look on his face that I hope I never forget". It took her a second to realize what was happening, but when she did realize it, she is pretty sure she shouted , "YES!!"
Wedding Design and Planning: Navy, Burgundy and Gold Winter Wedding
Because Ashley is a winter girl and loves the mountains, she wanted a winter, outdoorsy-theme. To avoid Christmas decorations with a November wedding, she made sure to focus on the "winter" part. She incorporated douglas fir greenery and pinecones. Pinecones made everything cohesive in the bouquets, boutinerres, centerpieces, and favors. Perfectly Planned was her day of coordinator and helped execute her vision.
Her weddings colors were navy, burgundy, and gold. Details Party Rental provided the deep navy linens and burgundy napkins. It added the perfect color backdrop in a white-walled venue. Ashley also chose clear, glass chargers to elevate the tablescape while keeping with an airy feel. The burgundy napkins looked great with her settings! Lanterns added a romantic glow as centerpieces, aisle liners, and on the stage. She wanted her winter wedding to feel cozy and welcoming, and be able to accommodate all 125 of her guests.
Unforgettable Floral made sure her bouquets and centerpieces included the same winter wedding theme, with magnolia leaves, fir tree greenery, and pine cones. The head table featured a grand magnolia and fir runner, with pinecones throughout. The bridal bouquet included black bacarra, burgundy rununculus, burgundy dahlias, burgundy peonies, thistle, pinecones, and winter greenery. It was a stunner!
Ashley selected Deep in the Heart Farms for her wedding location because she is from Navasota, Texas, and she wanted a venue near home with a formal feel and a chapel. She feels that the venue is so intentional and raves about the bridal suite, private room for grandparents, and the bathrooms. The bathrooms, you ask? Yes! She says they look like they should be in a Southern Living magazine! Guests want to feel comfortable in all spaces, we get it!

The Attire
Ashley's Hayley Paige gown was from Coreena's Bridal, and was elegant and classic. She did choose to wear her veil down to keep the "kiss" traditional, and it was perfect! Erik's tux, white vest, and tie were provided by Al's Formal Wear.
The Winter Wedding Ceremony and Reception
Ashley describes the ceremony as simple, but only meaning they didn't want a lot of fanfare. She and Erik exchanged vows, rings, and recited Ruth 1:16together. Ashley's favorite moment was right after the ceremony. She said she and Erik had just a short moment for the two of them, and they hugged with emotional tears! She jokes that a close second to that moment was hitting up Whataburger in a 1941 mercury after their wedding!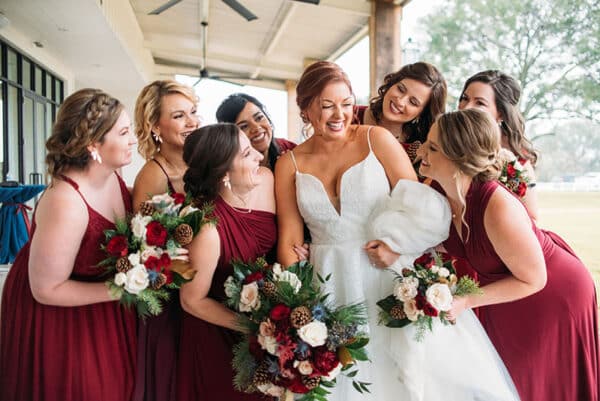 The reception was a party with delicious food. Napa Flats handled cocktail hour. For her wedding timeline, she and Erik chose to do their first dance after their grand entrance. DJ Franco made sure to get the party started as they walked in! They then feasted on Mel's Cafe who served chicken fried chicken, lasagna, mashed potatoes, mac and cheese, green beans, and salad. She reports it was "SO good".
For dessert, Ashley used Truly Scrumptious Cake Shoppe. They served a four-tier almond cake with cherry filling. Erik's cake was a one-tiered arnold palmer cake.
Her favorite speech of the evening was her dad's. He started out with a "normal" father of the bride speech, but then started reciting Coach Gaines' speech from the end of Friday Night Lights. He even put on Coach Gaines' signature jacket to finish it off! Friday Night Lights is Ashley's favorite movie. She walked down the aisle to the main theme song from the movie, so the speech was icing on the cake! They danced a ton, then they ended the night with a sparkler exit in Erik's grandfather's 1941 mercury (how cool!)
Advice from the Bride
Coming straight from Ashley – "At the end of the day, after all of the dresses and flowers and drinks, your wedding day is about you and your spouse and your marriage. Make sure to focus on that when planning. Find a time to sneak away, just the two of you, and take it all in. It will be over so much faster than you think it will, and you'll appreciate those little moments that the two of you shared. "
This winter wedding was beautiful! Thank you Ashley and Erik for sharing your real wedding story, and congratulations on your wedding day!