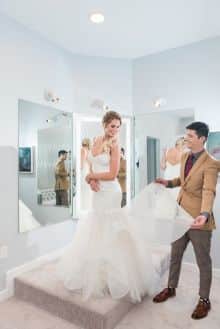 Brides are always going to be busy planning their perfect day and sometimes an important aspect of their day slips past them: their dress! Whether you are wondering when to purchase a dress, how long they take to come in, or even if you just need alterations, we will go over all these topics to make sure that you are prepared for your big day.
The first step is knowing when to purchase your dress. After you've said "yes" to your dream dress, we take your measurements and then place an order with the designer for the size with the closest fit. The sizes offered are based on standard bust, waist, and hip measurements and may not match up exactly with your body. For example, you might be a size 8 in the bust, a 6 in the waist, and a 10 in the hips. In this case, we would order the largest size and then alter the rest by taking in the bust and the waist as needed.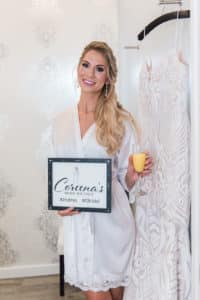 Designers don't normally keep a large volume of dresses in stock. This is why they typically require four to six months from the time the gown begins production to the time it ships. After your gown arrives, we typically require at least eight weeks to alter your dress to ensure you get the perfect fit.
With this in mind, we suggest the perfect time to purchase your wedding gown is at least nine months prior to the wedding date or bridal portraits, whichever is earlier. This helps to ensure that the dress will be here in time and that any customizations/altering can be completed in time without incurring a rush fee.
If you are a bride with questions regarding timeline, ask your stylist for suggestions during your appointment. In the end, it is your day and you should feel at ease and assured that you will walk down the aisle in the dress of your dreams.